Jdate com: the biggest website for Jewish datings
The cultural and religious characteristics of the Jews who settled around the world are very specific and closed. Even today, in a completely open world, there are many conservative people who support traditions and seek to start a family with other Jews.
Therefore, representatives of this nation have a great demand for finding partners only of the same faith. They are ready for online dating and communication, but regular dating sites turn out to be somewhat irrelevant. People are usually represented there without a strict separation of religion and belonging to the nation, and a Jew risks spending there a lot of extra time being wasted in search of a partner and, possibly, a second half for the rest of his life.
Obviously, there is a great need for online dating sites only for Jews. And one such site is Jdate.com. Our Jdate review is presented further.
Best for
Look for marriage
Prefer dating
Just chatting
True friendship
What is Jdate.com
Jdate.com is a dating website focusing on Jewish singles who wants to find a couple, marry and them build a family. A big plus to the image of this site is its age. Jdate.com is one of the oldest dating sites on the Internet in principle, and it has been active since 1997. Over more than 20 years of active existence, a huge number of Jewish couples have found freedom here. Users note ease of use and a large base of participants. It is very easy to find a Jewish person with common interests in different parts of the world and try to build something more.
Jdate search tools simplify the process and make it more friendly, relevant and simply interesting. Jdate.com is considered to be not only the largest, but also the most popular dating site in its niche at the moment. The base of active participants is about 200 thousand people in different parts of the planet. Most users of the site are middle-aged, from 35 to 49 years old, so Jdate for seniors is the best. Women are slightly more than men at the same time.
Technologies and functions are constantly undergoing changes, and the site always looks in the spirit of the time, comfortable for the modern user. In this way, he has a serious advantage over many other old dating sites.
And the best proof of the authority of Jdate.com is the fact that over 50% of the Jewish couples who met on the Internet used this particular site. By the way, anyone can register here, but this will be an irrelevant waste of time for everyone who belongs to another nation and faith. The focus of the site's relations is very wide, despite the narrow national binding. People here can look for love, as well as friendship or just a company for hanging out or communicating. The site is completely open for registration, and this is fertile ground for scam, but real users usually don't have such problems here. The administration strictly monitors the reputation and quickly suppresses any means of fraud.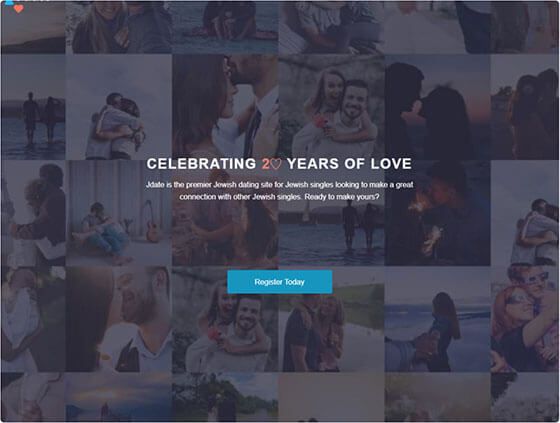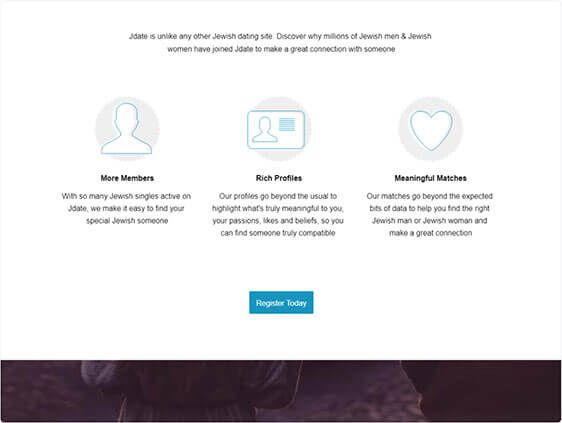 Registration and first steps
Let's try to take the first step in search of great Jewish love. Jdate sing in is very simple. It all starts from the main screen of the site. The design is minimalistic and clean, all tasks and features are clear at a glance.
Two registration options are available, which are displayed on the main page: quick authorization using Facebook, as well as registration via email address. The user will further need to fill out a profile, and you need to specify a fairly small amount of information. The data range can be expanded to simplify searches. An important part of the user profile is religious. It is also possible to write a free description of "about yourself" for 3000 characters.
When registration is completed, the user can begin using the site with Jdate login. Part of the functionality is available for free immediately after registration. For example, a user can search the catalog of profiles manually, or use the functions of standard and advanced search to find the closest matches. However, if the user wants to start a conversation and communication, then the person will need a paid account. Free Jdate log in have not to much user options.
Paid features and dating
The site offers wide functionality for dating. Here you can send attention signs to attract interest, talk in a private chat, make acquaintances on the forum of interests. Here you can also find offline events of the Jewish communities, receive advice from the rabbi, watch videos of other participants and so on. The user has at his disposal a number of related technical amenities, such as a news feed, favorites lists, current status (online / offline) and much more. With all this, Jdate.com contains a flexible privacy system. This means that the user can hide data about himself from strangers. Everyone here can hide information partially in any volume.
By the way, how does the search engine work? Here is a set of characteristics that can be identified to narrow the search as much as possible. This applies to the region of residence, gender, sexual orientation and so on.
An important feature of the success of the site is the support service. It is more effective than most typical dating sites. Jdate customer service specialists are always in touch and ready to help on any issue. The site also organizes offline meetings for people, including excursions and joint leisure activities. An important component is the program of religious communication, which aims to strengthen the Jewish community around the world as a whole.
As for Jdate price, monthly membership is implemented here. The user makes a payment, and all paid functions become unlimitedly available for a certain period of time. The longer the subscription, the more profitable. The cost of one month is 36.99 dollars. If you buy three months of access right away, the cost of one month becomes cheaper, 71.97 / 3 = $ 23.99 per month. The same goes for the six-month period, which equals $ 119.94 in total. All possible payment methods are available: plastic cards, bank checks, postal money orders, and so on. Membership is updated automatically, and to cancel it, you must perform the corresponding action.
Security
The site is free for everyone to access, and this creates the likelihood of fake and scam. However, a very responsible community is presented here, which helps other users identify fake accounts on forums. In addition, the administration is constantly working on this issue on its own. Jdate reviews are mostly positive and very positive.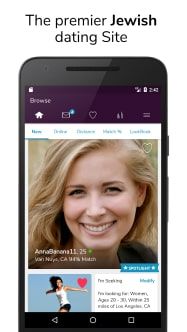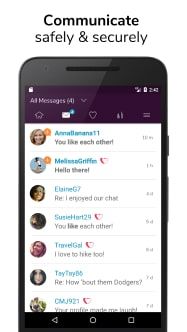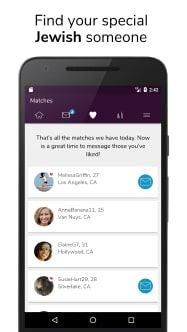 Mobile app
JDate has its own application. Jdate app is very simple and stylish, as friendly as possible for a wide range of users and fully repeats the functionality of the desktop version. If necessary, users can also try Jdate mobile version of the site, which is optimized for most modern smartphones and tablets.
Conclusion
Jdate.com provides the broadest opportunities for acquaintance of believing Jews all over the planet for the purpose of communication, hanging out and getting to know each other. This is a community that goes beyond the romantic dimension and makes it easy to make friends and develop the Jewish community around the world. It is worth considering that for all other categories of people this site will be irrelevant (for some reason, quite a lot of non-Jews are registered here). All technical aspects of the site are at a high level, Jdate cost of using paid features is at an average level, and the quantity and quality of opportunities for dating and communication exceeds standard dating sites. This is a good example of a niche dating site that takes care of each user in detail and protects people from scam.