The website is used for dating men with UA and RU girls. The site is geared towards heterosexual dating, with users focusing on building romantic relationships with the prospect of marriage. A man gets a beautiful wife who is ready for marriage and children, and a woman uses the opportunity to live in a prosperous country. The site has been operating for over 20 years. The CharmDate brand has a good, reliable reputation in its field and guarantees a high probability of a successful meeting with a pretty East Slavic girl.
Best for
Look for marriage
Prefer dating
Just chatting
True friendship
Review and Our Thoughts
The first thing that deserves attention about CharmDate's brand is reliability. CD has a long-term and good reputation. The website has been actively providing dating services since 1998. There are many real proofs of results, stories of successful dating. This qualitatively distinguishes CharmDate from many newer and insufficiently verified dating sites, where the user risks losing money due to wasted scams. If there is an opportunity to choose a dating site option for finding Eastern Slavic women, then we recommend paying attention to CD as opposed to newer and less proven players of this market. We do not provide a 100% guarantee that there will be no fakes and we recommend that you be careful in meeting and chatting with girls, but in the starting position CharmDate has clear advantages and a very high probability of success.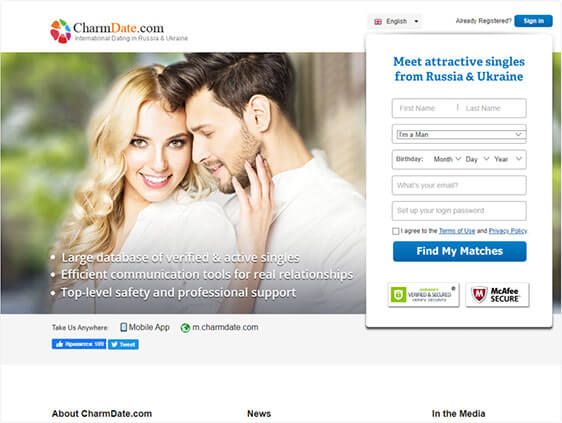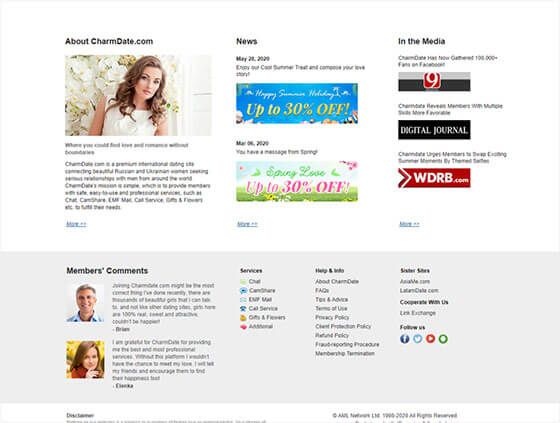 How to start using the service
How to start using Charmdate? Sign in and register before it. It all starts from the home page of the site.
It is made in a strict laconic design, and at first glance it seems that the site is focused on serious relationships. The main target audience is wealthy 35+ men who are interested in marriage. The website contains profiles of Ukrainian and Russian women 18+ who are ready for marriage with a big age difference. There are exceptions.
On the right side of the main screen, there is a quick registration form. A new user needs to specify the first and last name, gender, date of birth, email address, password on the site. Next, you need to familiarize yourself with the Terms of Use and Privacy Policy of the site, accept these rules by clicking on the appropriate mark and confirm the registration. Next, the user confirms the registration via the specified e-mail, and he is ready to use the site.
Further, in his own profile, the user can specify extended information about himself in 28 fields to simplify the process of searching and dating. To enter the site other time, you should make Charmdate com login.
First contact and what you need to do for this
The user can start using the site's capabilities immediately without additional steps. Viewing questionnaires from the catalog is possible without restrictions. This allows you to explore the site's features for free and find interesting girls, as well as decide whether it is worth spending money here.
After registration, the user should make Charmdate login and go to the catalog of registered girls. You can browse the general catalog in search of interesting profiles. If the girl is interested, then you can open her profile and find out more information, see the photo gallery.
Another option is to go to the search section, specify the parameters of interest and view the relevant questionnaires so as not to view the general pool of available questionnaires aimlessly.
Basic categories of sorting on the CharmDate site are:
Gender;
Age;
Profiles with photo;
Online.
There are also more accurate advanced search tools for those who clearly know which girls they are interested in.
In any case, the search leads to start chatting with the chosen girl. What should be done for this? Having visited the page of the selected Ukrainian or Russian woman, the user must write her a message or draw her attention with a special notification-greeting. The girl will see this, and if she agrees to communicate, then you can start dating.
There are several communication options that are designed to add interest and variety to the dating process.
Chat. The ability to chat with a girl in real time. She must be online. This option is suitable for meeting those who are present on the site at the moment.
CamShare. If the interest goes further, then users can look at each other live using webcams and chat in a more real way.
Mail. Correspondence with the girl you like at a convenient pace for users. The man sends a letter and waits for the girl's answer. Then he receives a letter from her in return and can write another one further.
Call Service. Exchange of contacts for further live communication.
Gifts & Flowers. How do you win a girl in real life? Showered with gifts! How to do it virtually? The site provides an opportunity to show attention to the girl you like so that she is more likely to draw attention to you.
There are also some other communication services: for example, girls can record paid videos for men in general, and everyone can watch them for a fee.
Prices
The site is built on a credit model. This means that there is no paid subscription with unlimited access to all features for a certain period of time. Each action costs a certain amount of money. It is an outdated and cumbersome system that is being phased out. The prices for services are higher in comparison with competing services that are built on a similar system.
Charmdate free credits are not presented, but the site regularly offers discounts and extra offers to purchase tokens. For example, 2 credits cost basically $ 16, but discounts are often offered cheaper, around $ 4. As for the other packages, 16 credits will cost $ 96, while a package of 100 tokens costs $ 399. At the same time, the cost of an online chat is 0.5 tokens per 5 minutes, video chat costs 0.6 tokens per 1 minute, and correspondence costs 1 token per 1 message.
Impressions of using within the service
Is Charmdate real? The service is quite expensive and outdated in many ways. At the same time, it is very simple and intuitive even for an inexperienced user of the Internet in general and dating sites in particular.
There is a reliable database of real verified profiles, and the site administration monitors against scam. This is more than enough for a wealthy man who sets himself serious goals. For some other categories of users, this site will not work.
Mobile version
CharmDate keeps up with the times and strives to satisfy the needs of the audience to the fullest. Charmdate app is convenient and it is available on Android and iOS platforms. The app works fast on all smartphones and the user interface is very friendly. All functions are fully preserved, and Charmdate mobile version is fast and reliable too.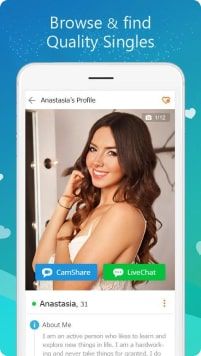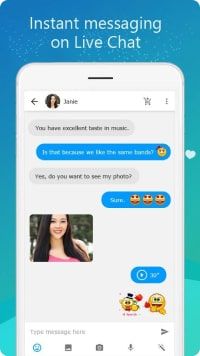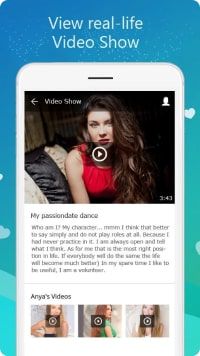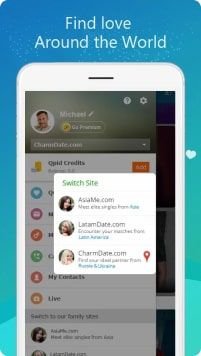 Service reviews
CharmDate reviews are quite positive. The administration tries to defend the rights of clients and monitors users for scam and fake. It is not always possible to do this, and you can find negative customer reviews on the Internet. But the reputation of the site is still high enough to recommend trying it. Be careful in each individual meeting.
Comparison with competitors
The project is similar to most of the older and more conservative dating sites in this category, which are rather reluctant to accept changes. They strive to remain a simple and straightforward dating tool for the older generation without visual or technical frills. For most users from the category of target audience, this is enough.
At the same time, this dating site supports the main trends and queries that are relevant for modern users. The best proof of this fact is a high-quality mobile version and application.
The pricing system has been preserved from ancient times. It is outdated and it feels like CD is struggling to hold on to the past century. However, this is not a winning strategy, which, however, still works. Prices are overpriced in comparison with direct competitors, and this does not benefit the service, because the quality of services does not surpass others significantly.
Conclusion
In summary, CharmDate is a trusted and respected Western male dating site with Russian and Ukrainian girls. There are a large number of real Slavic beauties here, which is supported by real dating cases. The opportunity to find your love is real, but you need to be careful in each individual case of acquaintance, since Charmdate scam issues are not excluded. If you are ready to invest relatively big money in acquaintance and communication, then this site can bring you a pleasant result.