Dream Singles is a dating site that provides an opportunity to meet men and women from all over the world for relationships and marriage. The concept of the site supports open dating between people from different countries of the world. There are no restrictions on sexual orientation and Dream Singles is friendly for all users. However, almost all dating here are heterosexual.
On the surface, this is a versatile global dating tool. In reality, things are a little different. Today the project focuses on introducing Western men to East Slavic women for a serious relationship. This means that mature men over 30 years old from Western and Northern Europe, the USA, Canada are registered here to find beautiful and interesting Ukrainian, Russian and Belarusian women to create a strong family in the future. This is understandable, because in these countries there are a large number of charming women interested in marriage abroad in prosperous countries.
Dream Singles brings these categories of users together, and there is a lot of dream marriage stories. A lot of them have accumulated over the years of the site's existence.
General information
Dream Singles has been around since 2003. Since that moment, thousands of couples have found their love here and built families. The site is considered reliable, and the administration openly takes actions to prevent scam. At the same time, it is a well-known and widely popular site with an open structure, and the risks of wasting time and being deceived remain here. This means that you need to be careful when seeking someone.
Dream-Singles is constantly evolving to meet the needs of the modern user. The administration of the project is constantly adding new options that allow you to qualitatively diversify the process of meeting and communicating people. The popularity of the site is still high, and up to half a million new users are registered here every month. Not all of them are active, but each person can find interesting real profiles of people in accordance with their request and preferences.
Most of the user profiles are from the US and UK (men) and Russia and Ukraine (women). There is a user verification procedure that helps to find real acquaintances.
First look and registration
Dream Singles review begins with a first website's page that has a typical laconic design for this category of sites. There are a minimum of functional elements and a very clear user interface. Everything helps to quickly understand the features and start communication from scratch.
The main page of the site offers to choose the gender of the user and preferences to get started with the site. This function opens basic information for registering a new user, and after entering data in new fields, the user gets the opportunity to study the profiles on the site for free. The basic information that you need to provide for registration is your current email address, password on the site, date of birth and country.
It should be borne in mind that each registered profile is completely open to users, and there is no initial mandatory verification of accounts. The only option for a new user is to verify the account at the specified email address. It is also possible to register quickly using a Google account.
Registration at dream-singles.com takes less than 5 minutes on average, after which everything is ready to use the site.
In addition to the registration form, the main page contains the advantages of the site, a text description of the services and a list of stories of people who met here and subsequently created families.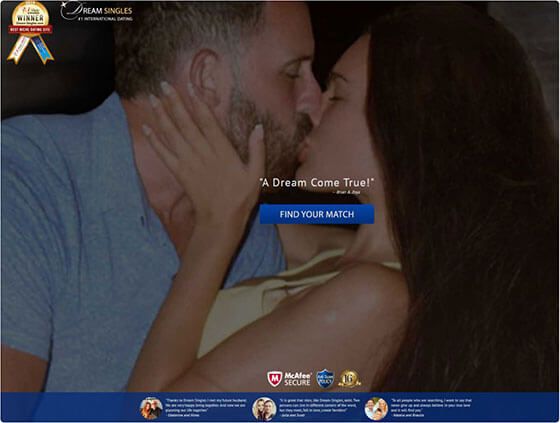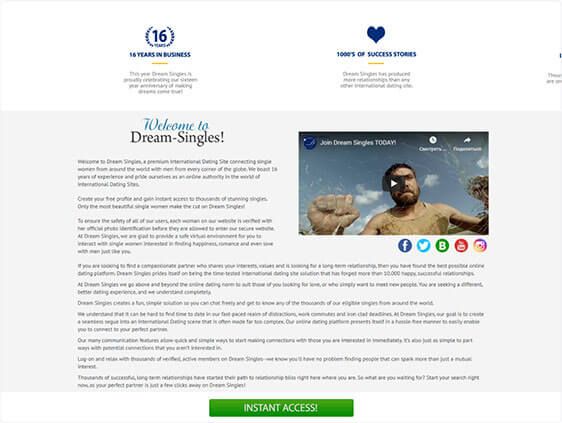 Extended user information and functions
The next step after Dream Singles login is to specify extended information about himself. After basic registration, everyone has the opportunity to view other people's profiles, but dating becomes a problem. If there is no photo and detailed information in the profile, you can hardly expect a decent response. Other people will simply be uninteresting and incomprehensible to make contact, and this situation also raises reasonable doubts about the reliability of the account.
To change the situation, but go to profile settings. There you can place data on expectations from a potential partner, as well as your own physical parameters, education, life position, religious views, and so on. To put the final chord in the design of the account, each person should write a free text about the goals on the site and about himself in a special free field for entering text. After that, you can add up to 5 photos to your profile, save the data and proceed to search for partners.
As mentioned above, all user profiles are open. They can be viewed for free and without serious restrictions. There are also free options to grab the attention of other users. However, this is not enough for a complete acquaintance. Those who want to chat and make friends here should get a paid account.
A paid account provides access to users' mail. It is inexpensive compared to other dating services. If a person wants maximum opportunities, including video chat and other related services, then they need to be paid separately, subject to a paid account.
This system differs from the typical mechanisms of paid and free services that are duplicated on other sites. The main disadvantage is that the payment system is quite confusing, and the user needs to spend additional time to understand the possibilities and terms. But the administration of the site also prepared some pleasant surprises. For example, a 3-day test paid account at a symbolic price, which allows you to get acquainted with the paid features in detail and decide for yourself if there is any further interest in using this site. Other dating sites usually don't offer this option.
Paid services
After free registration, you can use paid live chat or video chat. They are paid separately; the user replenishes the additional account with credits. Live chat is a good way to attract the user's attention, send gifts. However, it is rather difficult to start communication from here. Also, credits can be exchanged for additional services, including translation assistance.
Everyone who wants to meet others needs a paid account for maximum functionality. It opens up the ability to send messages at a convenient pace (using letters for the internal mail of the site, and not live chat). There is also a 50% discount on live chat, video chat and video messages. There are four levels of paid subscription, which differ in the number of available paid options: silver, gold, platinum, diamond.
Searching for people
Target requests are presented in the form of a catalog with a preview photo and basic information. You can scroll through the list and select people of interest from the general database, which takes up extra time. At the same time, this is an opportunity to see at once all the variety of single people who are registered here. Here you can also display all the people online on the site at the moment, a list of new users and a directory of welcome videos from people, which helps to form a first impression.
Another option for a more precise search is a keyword query or filters. Filters help to weed out people according to the parameters specified in the personal data, and that is why it is better to fill in the extended information as accurately as possible and without skipping individual fields.
When the right person attracts attention, just click on their profile to see detailed information. A big plus is the fact that all the data in the questionnaire is presented very clearly and conveniently. This helps to save time while searching.
Mobile app
Despite the fact that mobile traffic is very high these days, Dream Singles does not offer a mobile app for Android and iOS. This is a big drawback, but the mobile version of the site can be used. It contains all the functions and works fairly quickly on all devices.
Conclusion
Dream Singles is a typical dating site for girls from Eastern Europe. The main advantage is its popularity and high user activity. Here you can always find interesting people online, and many of them will be real users. Dream Singles scam is presented too, and the reason for this is the open structure of the site. At the same time, the administration does not support this and suppresses illegal activity whenever possible. The main disadvantages are minor inconveniences that are usually not encountered by competitors: an intricate payment system, the lack of a mobile application, and so on. If you are willing to ignore such details, then finding a partner on DreamSingles will bring many pleasant moments.